Mercury and Parkinson's Disease:
Mercury is toxic to the human body and specifically to motor neurons which when inflamed, disabled or killed off by mercury, is a possible causative factor for Parkinson's disease. Mercury and many other heavy metals (lead, chromium, ...) are bio-accumulative, meaning that they make their way into the body but the body can not easily dispose of it, thus accumulating over time. The primary human target areas susceptible to mercury are the brain and nervous system, the kidneys, and the cardiovascular system. Mercury sources, measurement and detoxification by chelation therapy are all discussed.
Mercury can enter the body in many forms:
Elemental mercury (Hg): gas or liquid state. Gaseous state is particularly dangerous as about 80% of inhaled vapors are absorbed by the lung tissues. It is also highly fat soluble allowing it to pass through cell membranes and the blood-brain-barrier. Once embedded in the brain, it can disrupt normal function. Also used in dental fillings
Organic mercury (MeHg or CH₃HgX): produced when elemental mercury is methylated by intestinal and oral bacteria. This is also known as "Methyl-mercury" and is dangerous as it is easily absorbed. MeHg can bind to the sulfur-Hydrogen (SH) group of cysteine, cross the blood-brain barrier to disrupt glial cells and neurons in the brain.
Inorganic mercury (Hg(II), HgCl₂, HgO, ...): produced when elemental mercury oxidizes. Also known as "reactive gaseous mercury" or "divalent mercury". Not fat soluble so it can not pass into cells or the brain but can form strong bonds with enzymes and tissue making it difficult to remove once attached.
The most common toxic form being Methyl-mercury which is readily absorbed into the body through the gastrointestinal tract and has entered the aquatic food chain thanks to the output from coal burning plants making its way into the oceans. Mercury has been shown to be a neurotoxin and to cause a large influx of calcium ions into the neuron cell thus inhibiting dopaminergic neurotransmission and causes the physiological characteristics of Parkinson's disease (tremors, insomnia, muscle atrophy, muscle twitching, memory loss and degraded cognitive function) and even to neuron cell death.
Sources of mercury include:
dental amalgam silver-mercury fillings: inhaled mercury vapor
fish, especially carnivorous fish at the top end of the food chain or those with long life spans: shark, sword fish, halibut, orange roughy, king mackerel, tuna, marlin, bluefish, grouper
thimerosol: a vaccine preservative, an anti-fungal agent, antibacterial preservative for antiseptic ointments, creams, jellies, nasal sprays, eye drops, contact lens solutions
tattoo ink
broken CFC light bulbs, fluorescent lamps, neon signs, mercury vapor lamps
broken mercury thermometers, barometers, blood pressure meters
mining: used to remove gold
electrical switches
References:
Negative Facts About Mercury:
A Taiwan study found that people with amalgam fillings were 1.6 times more likely to get Parkinson's than those without exposure to them regardless of sex or age.
References:
Autopsies of people with dental amalgam fillings revealed that they have 2-12 times more mercury in their tissues than normal. It has been shown that the mercury in amalgam fillings releases mercury vapors which are inhaled and make their way into the body and brain.
References:
Mercury also can bind to thiol (single sulfur group) containing molecules, such as cysteine which allows it to transported across the blood brain barrier.
References:
Mercury will accumulate in the lysosomes of motor neurons resulting in their dysfunction and destruction. Note that lysosomes are the component of a cell responsible for alpha-synuclein cleanup and when destroyed or made dysfunctional by mercury, it leads to Lewy body growth and the manifestation of Parkinson's.
References:
Mercury inhibits mitochondrial function.
References:
The link between mercury and ill health including Parkinson's traits is clear and established.
Mercury and Neuron Toxicity:
How Mercury Causes Brain Neuron Damage - University of Calgary
Amalgam Dental Fillings:
Amalgam dental fillings are composed of about 55% elemental mercury, 44% silver and 1% of trace metals like zinc, copper and tin, which together bond and form a solid metal material used to repair dental cavities. The United States Food and Drug Administration (FDA) still views the use of mercury amalgam fillings as safe and the American Dental Association (ADA) still regard mercury amalgam fillings as safe but research has shown otherwise. The Environmental Protection Agency (EPA) declared in 1988 that scrap dental amalgam material was a hazardous waste and OSHA has mandates on how to handle amalgam fillings. The act of chewing and brushing release Mercury. Acids found in foods and drinks (especially if they are hot) can cause the release of Mercury from the amalgam. It's not surprising that in 2008, Norway, Sweden and Denmark banned the use of mercury in dental fillings.
Typically the silver-mercury dental materials are shipped to dentists with the quantities in pre-measured containers ("precapsulated") so the quantity is "fool-proof" but the material quality and the mixing of the materials to form the amalgam is not and if not mixed completely with all mercury reacted with the silver, the amalgam will have the propensity to release the unbound mercury. This phenomena is more likey to occur at the greatest levels in the weeks following a restoration. Note that some dentists (typically not USA) may employ reusable capsules and may error on the ratio of the mix (a process referred to as trituration). This practice is old, subjected to exposure and oxidation, generally more error prone and time consuming and should be avoided. The mixing machines ("amalgamators") should oscillate at an optimum frequency, amplitude and duration for a given capsule length and size and at the optimum temperature, in order to form the best dental amalgam. Over-mixing creates an amalgam which is hard to form and porous and prone to fracture while under-mixing may create an amalgam which is too soft with too much free mercury. Dentists who manually mix amalgam will be prone to have an even greater risk of error.
In order to mitigate any problems with the release of mercury from amalgam dental filings, the fillings can be removed and replaced with composite or ceramic material. The tooth can also be given a crown or a root canal performed to replace the tooth with a prosthetic. Amalgam replacement must be done wisely as it has the potential to generate mercury vapor and fine particles which can be ingested, resulting is an even higher dose of Mercury poisoning. It is essential to have a mercury safe dentist who follows specific safety protocols when removing the fillings.
Mercury: The poison in your teeth: Amalgam stimulated with a tooth brush (Dr. Tom McGuire DDS)
Safe Mercury Amalgam Removal Technique:
The International Academy of Oral Medicine and Toxicology (IAOMT) has developed the Safe Mercury Amalgam Removal Technique (SMART) protocol recommendations. The IAOMT website also has a searchable worldwide dentist database or check out Dr. McGuire's database for a dentist with skills to meet the IAOMT protocol for removing amalgam fillings.
Safe protocols for amalgam removal include:
the use of a dam around the teeth being worked on to trap debris from being ingested by the patient
the irrigation with cold water during removal to minimize the generation of mercury vapor
the use of amalgam capture separators to capture material so that it is not released into the public waste system or atmosphere
the use of an evacuation system to remove mercury dust and vapors from the patient's mouth
the use of an air supply so the patient does not breathe in mercury vapors
the physically coarse mechanical removal of chunks of amalgam rather than just the use of a fine drill which is more prone to generate fine particles of mercury, mercury dust and mercury vapor
the use of ambient high volume air filtration equipment to trap mercury dust and vapors
provide the patient a charcoal slurry binder (or equivalent) to rinse and swallow before and after the procedure
provide the patient and dental workers protective gowns
provide the dental workers protective face shields, head coverings, non-latex nitrile gloves and mask
dentist should use equipment optimized to reduce aerosols, minimize and capture vapors and particles. For example the Zyris "Isolite" dentist drill minimizes aerosol and spatter, evacuates vapors and particles and isolates the work area.
IAOMT Safe Mercury Amalgam Removal Technique (SMART) protocol. Ignore the comment about taking chlorella (1 min and 3:53 min into the video) as it is not a good chelator and will move rather than remove mercury.
Amalgam fillings can be replaced with porcelain inlays or onlays bonded to the tooth. Be sure to use one of the newer bonding agents which do not contain Bisphenol A (BPA) which is a bio-accumulative, xenoestrogen endocrine disrupting chemical which has estrogen hormone like properties. This is also true in choosing composite filling materials. Choose materials which are BPA-free. Also be sure to reduce your BPA exposure by choosing glass over canned food products and don't microwave polycarbonate plastic (marked with a number 7 recycling code) food containers.
Dental materials testing panel: Clifford Consulting and Research (get tested for BPA and other dental materials)
The goal of removing mercury amalgam dental fillings is to remove a source of mercury which will constantly release low doses into your body. Another reason is that it is a prerequisite for a mercury detoxification process known as chelation therapy which is used to remove mercury from one's brain and body tissue. It is a requirement to remove amalgam fillings prior to chelation as chelation will pull mercury from amalgam fillings creating a toxic event.
According to the ACC mercury detox protocol, any remaining bit of amalgam remaining in the tooth near the tooth root might induce the need for a root canal as chelation agents will be drawn up through the root of the tooth in an attempt to bind with the mercury. A grey stain remaining on the inside of a filling is more likely to be silver oxide and not mercury. A visible white spot revealed on an x-ray is problematic and an indication that a speck of mercury amalgam is remaining in the tooth.
Binders such as activated charcoal can be taken 20 to 30 minutes before the amalgam removal procedure starts for the purpose of attaching to any mercury particles that may be ingested. For more on binders, see below.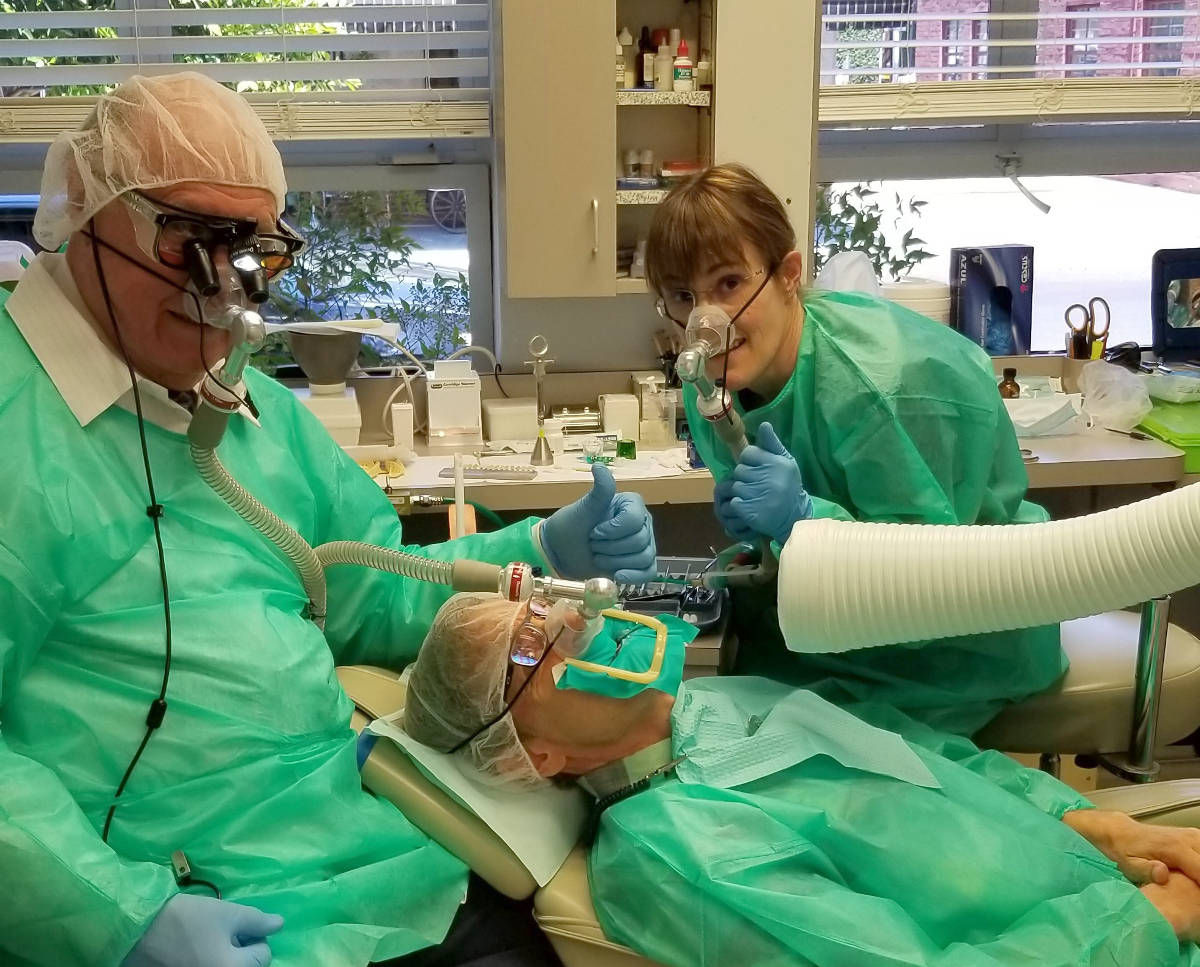 Removing dental mercury amalgam using the SMART protocol (dental dam, respiration and evacuation equipment, protective garments, etc) Dr McBride DDS
For more details and photos see the IAOMT SMART protocol for mercury amalgam removal.
Dental organizations dedicated to mercury free dentistry and safe amalgam removal:
Mercury Removal/Chelation from Human Tissue and Organs:
Mercury accumulates in body tissue and organs and generally can not be removed mechanically. Be very skeptical of those offering a vitamin cleanse to remove mercury as there is no evidence that it will be effective. The act of using a mercury binding molecule to attach itself and engulf mercury atoms in a way that it is viewed by the body as organic waste that can be expelled by the body's regular organs, the liver (including bile and GI tract) and kidneys, is known as a chelation therapy. The goal of the chelator is to bind to the toxic metal to make it non-toxic, water soluble and easily excretable by the body. Mercury is known to to have a very high affinity to sulfhydryl (SH) groups. This affinity is exploited to attach to mercury and remove it.
The chelating agents possess ligand (molecule that binds to a central metal atom by donation of one or more of its' electron pairs) that form bonds with the metal to be removed. The chelating agent forms a stable complex with the toxic metal to shield human tissue from the metal ion, thereby reducing the local toxicity. The resulting molecule can then be mobilized and excreted in urine and feces.
Chelation Agents:
Chelation Agent
FDA Approved
Description
Toxicity (LD50) mmol/kg (lower=more toxic)
DMSA
yes
Dimercapto Succinic Acid (DMSA) C4H6O4S2 is considered safer and less toxic than DMPS. Goes by the trade name "Chemet" but also called "Succimer". DMSA does not enters the cells but relies on glutathione to push toxins out where DMSA is waiting to bind to them. DMSA is typically given for 3 days followed by 11 "off" days. The body needs the "off" days to remake glutathione. The dosage is based on body weight. Chelates lead and mercury (favors organic ethyl-mercury). DMSA targets "extracellular" mercury, the mercury found outside the cell walls in body tissue. Digestible and does not result in a significant loss of essential metals like zinc, iron, calcium and magnesium. Concurrent use with EDTA is not recommended. Excretion pathway: kidneys (thus drink a lot of water to flush the resulting DMSA-Mercury compound). Half life: 4 hrs.
13.58
DMPS
no
2,3-Dimercapto-1-Propane Sulfonic Acid (DMPS) is used when all other detoxification methods have been exhausted. Goes by the trade name "Dimaval". Fast acting. May be over effective on first use. Not to be used when dental amalgam fillings are still resident as saliva delivery of the chelating agent will bind to the mercury and can result in acute mercury poisoning. DMPS favors inorganic mercury. DMPS targets "extracellular" mercury, the mercury found outside the cell walls in body tissue. Avoid DMPS "challenge tests" as it creates a toxic mercury load. DMPS is legal in Germany but not FDA approved for the USA. Also a strong chelator of copper. Excretion pathway: kidneys (thus drink a lot of water to flush the resulting DMPS-Mercury compound). Half life: 8 hrs
5.22
EDTA
yes
Ethylene Diamine Tetra-Acetic acid (EDTA) amino acid was used in the National Institute of Health (NIH) TACT trial. Considered safe by the FDA although it can be toxic to the kidneys. Kidney function should be monitored. Has the added benefit of clearing plaques in blood vessels. EDTA was first used in the 1950's as a treatment for heavy metal (lead, mercury, copper, iron, calcium, chromium, cobalt, cadmium, magnesium, vanadium, zinc, ...) poisoning. Best used for detoxification treatment of cadmium and lead. Avoid "challenge tests" as it creates a toxic load. According to Dr. Andy Cutler PhD it can form a dangerous compound when it binds with mercury. There are two versions, NaCaEDTA and NaEDTA of which NaEDTA easily binds with calcium and should not be used on children. Typically administered intravenously and not intramuscular.
10
ALA
no
Alpha Lipoic Acid (ALA) C8H14O2S2 is the only one of the common chelator agents which crosses the blood-brain-barrier and is used after chelation with other agents or in combination with other chelation agents. ALA targets "intracellular" mercury, the mercury found inside the cell walls on both sides of the blood-brain-barrier (BBB). Must wait three months after amalgam removal before starting chelation with ALA. Excretion pathway: liver. Half life: 3 hrs
Also see:
Glutathione
Glutathione (GSH) is available as a neuro-protective supplement which is hard for the body to absorb and thus is more effective if given intravenously but is still ineffective due to a short half life of less than 20 minutes (ref). It has been found to be far more effective to let the body produce GSH by consumption of its precursors: N-AcetylCysteine (NAC) Glycine and Glutamate. Glutathione is typically generated by cells in the body as a natural detoxifying agent. Mercury has an adverse effect on Red Blood Cell (RBC) glutathione making it more difficult for a mercury toxic body to excrete mercury. Glutathione is often not considered a true chelation agent because they do not contain two or more binding groups (dithiol groups). ACC protocol considers Glutathione IV a dangerous option as it will redistribute mercury causing more damage rather than remove the mercury from the body. Supplementing the precursors to glutathione, allowing the body to generate glutathione is preferred. Excretion pathway: liver.
Also see:
Dimercaprol
yes
Dimercaprol (also called British Anti-Lewisite or BAL) is used to tread lead, mercury, bismuth, silver, nickel and arsenic poisoning. High doses can cause coma and seizures. Not to be used to chelate iron or cadmium because the resulting complex is toxic.
1.1
DPA
yes
Penicillamine (DPA) sometimes used to treat bismuth, copper, lead, mercury, and nickel toxicity. Primary adverse effect is an allergic reaction in people who are also allergic to penicillin. Tends to redistribute mercury with adverse reactions.
Also see: The enigma of parkinsonism in chronic borderline mercury intoxication, resolved by challenge with penicillamine
The d-penicillamine (dimethyl cysteine or (2S)-2-amino-3-methyl-3-sulfanylbutanoic acid) variant, also known as Cuprimine, is an oral chelator which is less toxic and preferred over the l-penicillamine variant.
DFO
yes
Deferoxamine (DFO) mesylate is a chelator used to treat iron and aluminum (AL) toxicity. Primarily used for AL-related diseases in renal patients.
Also see: Chelation in Metal Intoxication (2010) covers chelation agents, combinations of agents, pros, cons, limitations, etc
Chelation therapy must be avoided prior, during and immediately after amalgam replacement. Do not consider chelation prior to dental amalgam removal as the chelation agent may be delivered by one's saliva to the mouth and dissolve the mercury in the amalgam resulting in acute mercury poisoning. Also note that dental amalgam replacement can temporarily elevate mercury in the body. Thus it is considered unwise to undergo chelation for four days to a week after amalgam replacement when using DMSA or DMPS or for three months after amalgam replacement when using ALA. One should find an IAOMT SMART certified dentist who has the safety gear to keep both the patient and dentist safe from mercury vapors generated during the amalgam removal process.
All effective chelation protocols will call for the replacement of beneficial vitamins and minerals, which are also removed by the chelation agents.
The removal of mercury amalgam dental fillings with modern methods is a no-brainer as they can be safely removed without exposing the patient to harm. Chelation on the other hand does not have a clear and defined exit path for the mercury being removed and thus can impose harm on a patient. The mercury being removed from the body by chelation is often buried deep within tissues spread out among organs, fat and brain matter and the journey it takes to exit the body often includes being relocated after being dropped by the chelator compound and traveling through healthy tissue causing new mercury toxicity damage. Chelation can present its own hazards. If chelation is causing pain, severe anxieties or depression, brain fog, head aches or discomfort, stop chelating as the dosage is too high! Chelation does not benefit the patient who is tough or is content with suffering as it may be doing damage. Go slow with light doses. If the patient body burden of mercury is high, start light and be safe. The discussion of chelation therapies below is not an endorsement of chelation or of any one chelation protocol. When one begins chelation therapy, they are starting at the highest level of mercury burden in the body and thus should start with the lowest dosage of chelator and stay at a low dosage for many rounds. Dangers of chelation are discussed in detail below.